Home | Soren's Story | Soren's Accomplishments
PACH2 Quest
2011: The Year of the PACH
Soren's MACH3 Quest
Soren's Nationals Quest
2010: Soren's MACH2
2009: The Year of the MACH
Soren's Incredible 2008
Soren's Amazing 2007
2010: Soren's MACH2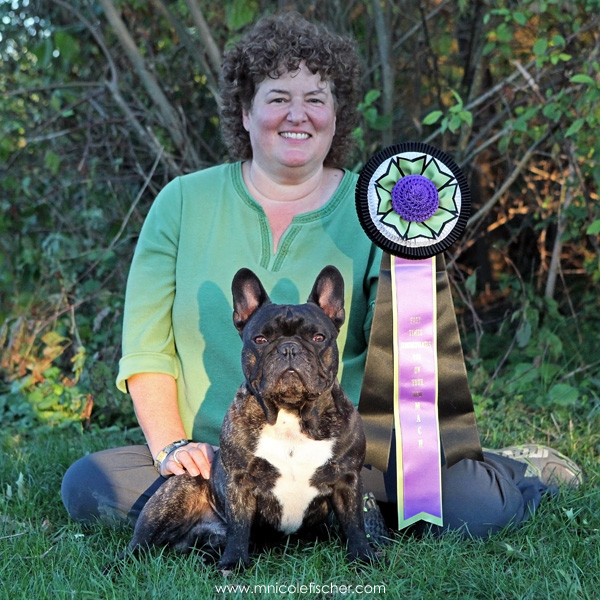 On Sept 12, 2010, at the Tail Blazers Agility Club trial at Dream Park in Swedesboro NJ, Soren grabbed another piece of French Bulldog history for himself. A beautiful run on a fun Scott Stock course earned him the distinction of becoming the first French Bulldog ever to earn a MACH2.
Click here to see a slideshow tribute to Soren with photos and video from the year leading up to our MACH2 (this is the original and best quality, but a large file that takes a little bit to buffer). If you have trouble with this link, you can also watch on YouTube below (it is better viewed Full Screen):
This past year has been one of many challenges, and many times it was Soren's special camaraderie and sense of fun that kept me plugging through some difficult times.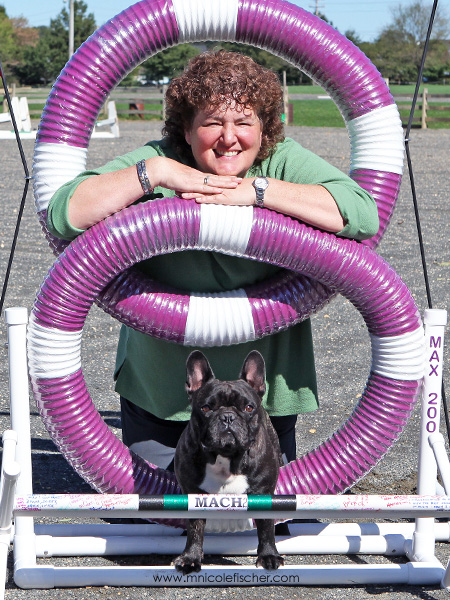 There are really no words that can fully describe how I feel about this little dog -- his courage and determination, his "can do" attitude, his intense devotion, and of course his passion for agility, and for rising to whatever I ask of him.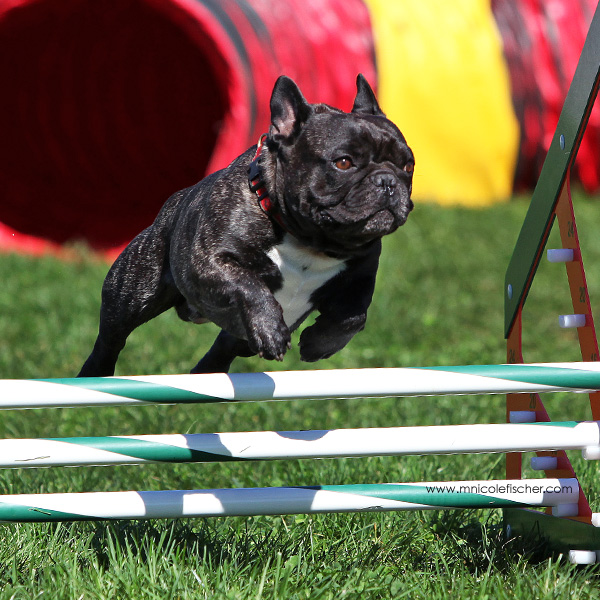 It tickled me as we stepped to the line on that Sunday morning. I was reminded of our MACH run just over a year before when Soren refused to sit at the start line. He was adamant about it then, and this time again he was having none of it. He looked at me as if to say, "C'mon ... it's time and I'm ready. Let's just get it done." And he did.
Of course to add a little drama, the ending of the course was one that has been our nemesis lately ... dog walk to the finish jump, and from a tunnel no less.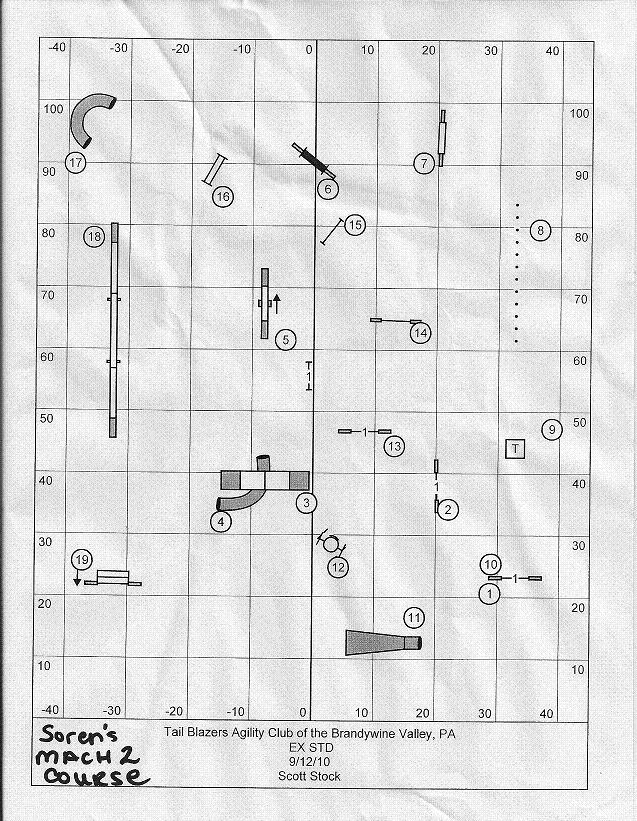 We've been struggling with launches off the dog walk when it is the last obstacle before the finish jump -- Soren just loves the finish, as it's when the party begins. So I told myself to just trust Soren and run like I would in practice, and he hit the yellow with a vengeance ... no doubt on the contact at all ... and over the final triple jump. I turned back to check the clock, and we had the points we needed with a few to spare. There was much cheering for the victory lap, and at one point Soren was so charged up from all the excitement, he almost ran out of the ring via the entrance, but we managed to get him back with our Q intact.
Not sure who our scribe was, but certainly appreciated the cheerful message on our scribe sheet :o) One for the scrapbook!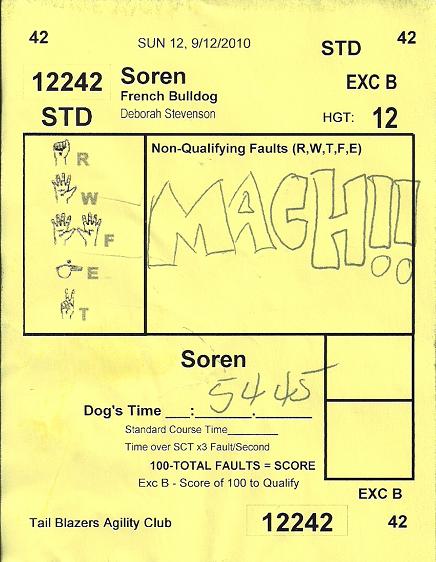 And of course what is a MACH2 without a MACH2 Party. And what is a MACH2 Party without Soren's very favorite thing -- MACH CAKE!!!.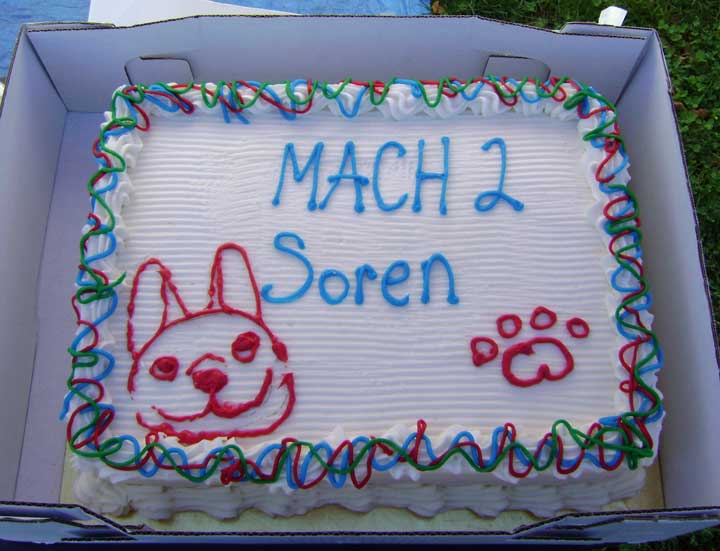 The MACH2 Cake -- Soren's favorite part of the MACH (you can't really tell from the picture, but this cake is HUGE and should have come with one of those Home Depot "Lift with your knees" warning stickers)
Of course in life you have to take the good with the bad. Along with the MACH cake sometimes comes the dreaded "party hats."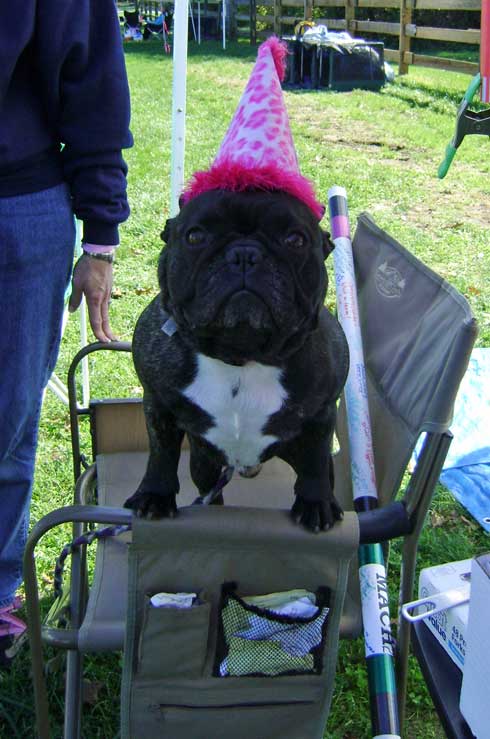 Soren in his MACH2 Party Hat -- Not every dog can pull off a hot pink leopard print
party hat, but Soren makes it work -- "I'm wearing the ridiculous hat like a good sport.
Now PLEASE can we eat the cake??"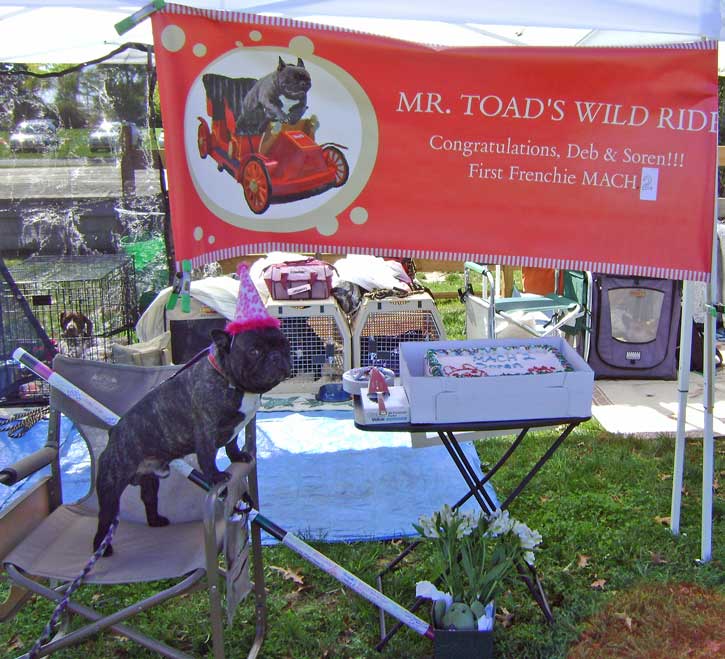 The MACH2 Party :o) -- "Umm -- Still in the hat, and still no cake"
And so our MACH2 journey comes to an end. Despite a few difficulties along the way that slowed us down last spring, we managed to persevere, and the challenges we overcame made it all the sweeter to reach our goal.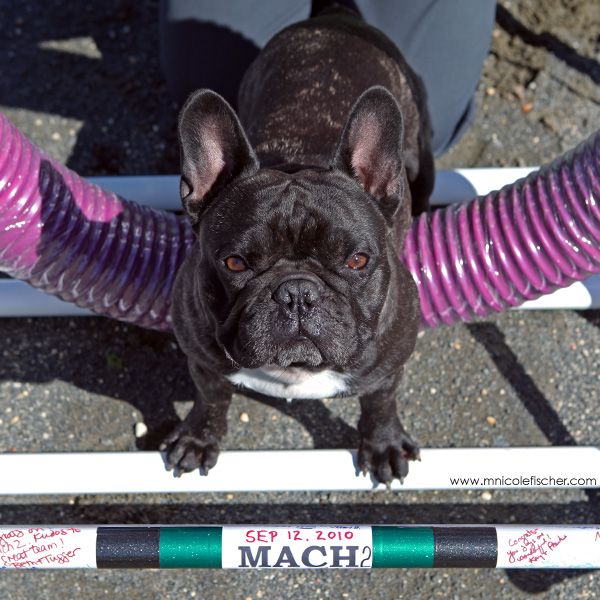 As with our MACH journey, the friends new and old who shared our ups and downs along the way made it extra special. I am always touched by how many people love Soren.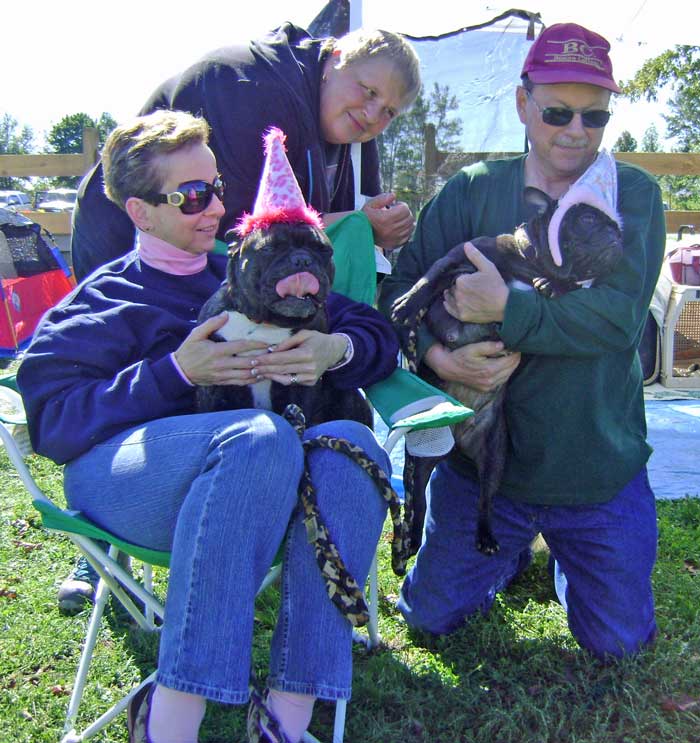 Friends Andrea and Patrick Kelly (front) and Deb Rabuck (back)
with Soren and Audra reluctantly sporting their party hats.
And we could not have done it without the support of Ron and Suzanne Readmond, and of course our fearless instructor Barb Miller, whose insightful guidance is behind every accomplishment and whose friendship and support have meant so much.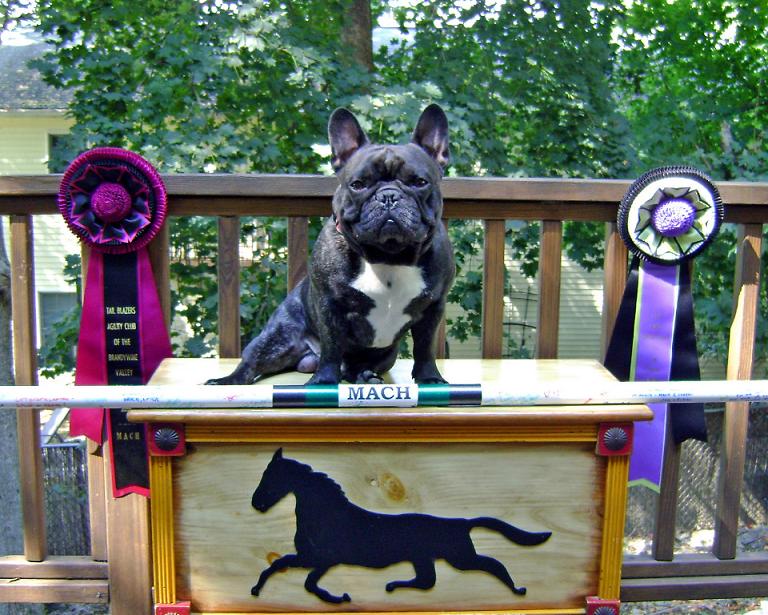 Certainly where this road has taken us is far beyond the wildest dreams I had back when we first set out on our adventure. Two MACHs, the cover of Clean Run, Invitationals, Nationals, All Stars ... words just don't seem enough.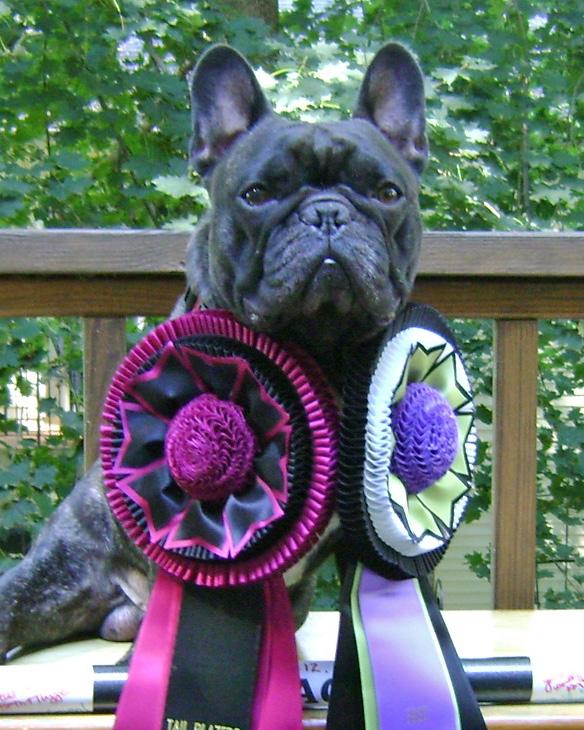 See that Sor-baby ... I told you Dream Park is "where dreams come true :o)" I am SO very proud of you Soren!!! You are a precious wonder and I am so grateful to have you as my friend and my agility partner. Every run with you is a treasure.
OTHER 2010 ACCOMPLISHMENTS
MACH2 was our big goal for 2010, but we had some other fun accomplishments that are noteworthy, including a number of new breed firsts ...
Soren's an All Star!!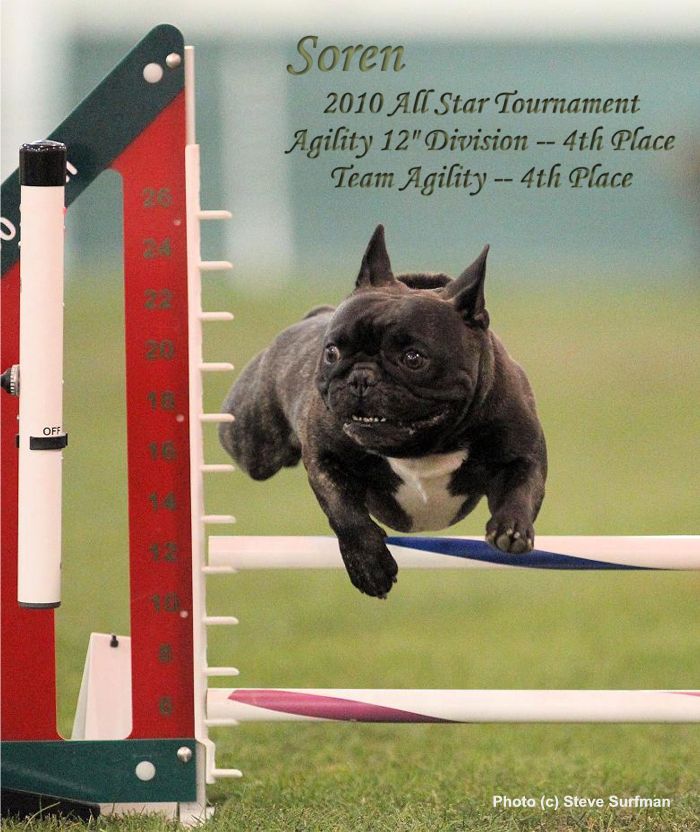 Soren places 4th in All Star Agility 12" Division Individual competition, and 4th in Agility Team Competition, to become the first Frenchie All Star Top 10 in Agility
Another Breed First for Soren -- RAE2!!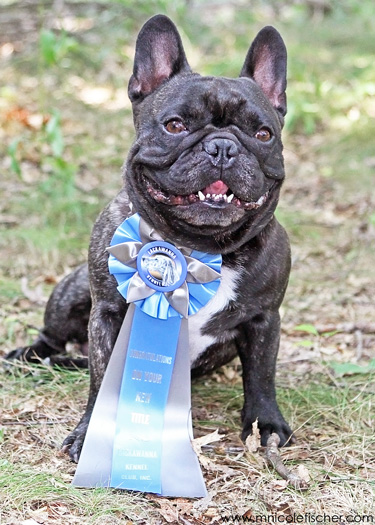 Photo © M. Nicole Fischer -- Soren with his New Title Rosette for his RAE2
On July 30, 2010, Soren finishes his Rally Advanced Excellent 2 (RAE2) title in AKC Rally. Soren is the first Frenchie to earn an RAE2 title! See Soren's Ad in JustFrenchies Magazine
In USDAA, Soren finished his Performance Snooker I (PK1) title, Performance 2 Standard (PS2) title, and his Performance Dog 2 (PD2) versatility title. All are firsts for the breed in USDAA.
On Feb 20, 2010, Soren became the first Frenchie to earn an Excellent FAST title (XF)
Finishing the year with over 150 MXJ and over 140 MX legs, Soren will receive retroactive lifetime achievement titles ... 11 of them!! ... through his Silver 2 in Jumpers, and his Bronze 2 in Standard.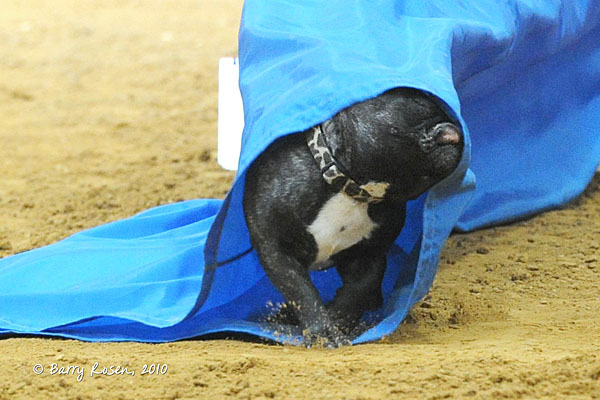 Shoot ... My lip is hung up on this chute!! Photo © Barry Rosen Photography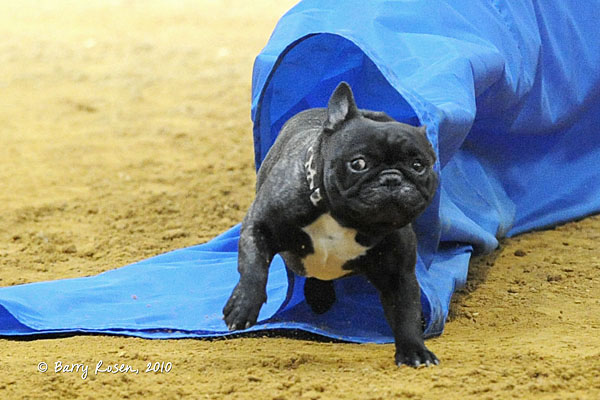 Whew -- I thought I'd never break free!! Photo © Barry Rosen Photography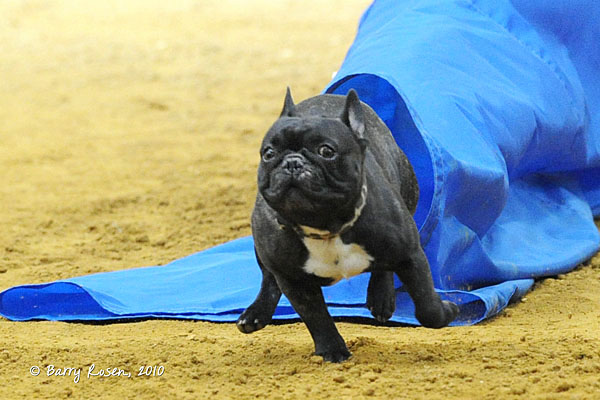 I'd have had my MACH2 sooner if it weren't these chubby lips holding me back
Photo © Barry Rosen Photography
Special thanks to Barry Rosen for the great "Chute Photo Sequence"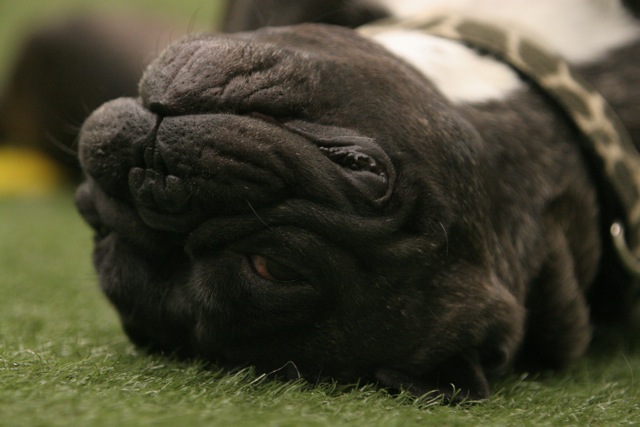 Why I love Soren so much :o) -- Photo © by Jacqui Wyatt
Home | Soren's Story | Soren's Accomplishments
PACH2 Quest
2011: The Year of the PACH
Soren's MACH3 Quest
Soren's Nationals Quest
2010: Soren's MACH2
2009: The Year of the MACH
Soren's Incredible 2008
Soren's Amazing 2007