Home | Soren's Story | Soren's Accomplishments
PACH2 Quest
2011: The Year of the PACH
Soren's MACH3 Quest
Soren's Nationals Quest
2010: Soren's MACH2
2009: The Year of the MACH
Soren's Incredible 2008
Soren's Amazing 2007

Soren's Nationals Quest
Soren qualified for the 2010 AKC Agility Nationals, becoming the first Frenchie ever to do so. It was an honor to qualify, even though we couldn't attend.
For 2011, Nationals were in Lexington, VA -- driving distance! YAY!! Not only did we qualify again with room to spare (you need 6 double Qs and Soren had 27!!! and you need 400 MACH points and Soren had 550!), but we actually got to attend and compete.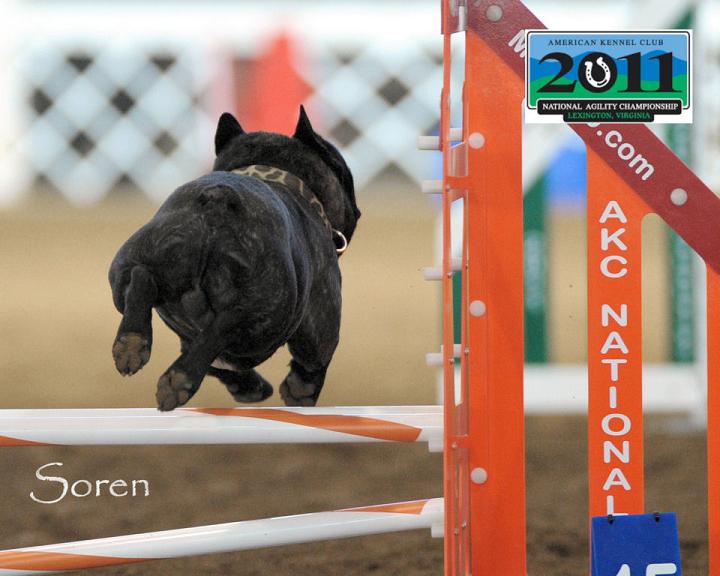 It was an incredible experience and we had such a good time. With so many amazing teams from all across the country, it was a thrill just to watch the runs.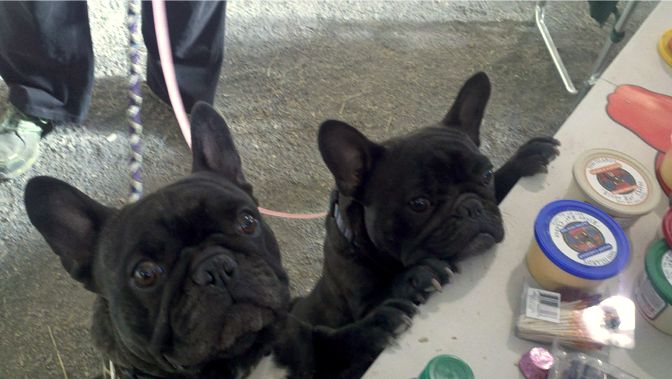 Soren and Audra survey the spread at the NY State Team buffet table...
Audra: "I'm starting to wish we were from New York, Soren."
Soren: "Whoa. Check out that NY Cheddar Cheese Ball. Maybe we can defect. Umm, excuse me, couple of NJ Frenchies seeking political asylum here."
Soren did a great job. In the ISC State Team standard run on Friday, he had a smoking run and a clear round on a tricky, but fun international style course. While I don't typically notice the announcer while we run, I did hear her say that it was the first time a French Bulldog had ever competed at Nationals. That was a very special moment for me, as I am so very proud of Soren. What he has accomplished is amazing for any dog, but when I think of the many doors he has opened for his breed, it just blows me away.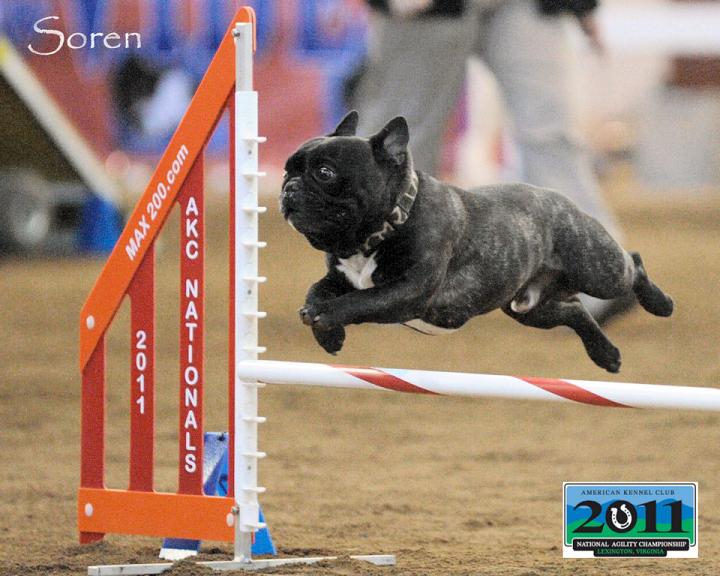 On Saturday in the first Jumpers run, I could tell Soren was a little tired and/or sore. I think the combination of jumping 12" again (we'd been doing Preferred since January and jumping 8") and the very hard running surface in the main arena got to him a little. Trooper that he is, he still gave it his all. He knocked a bar in Jumpers, but in Standard that afternoon, he ticked a few bars, but kept them up and managed to run clean.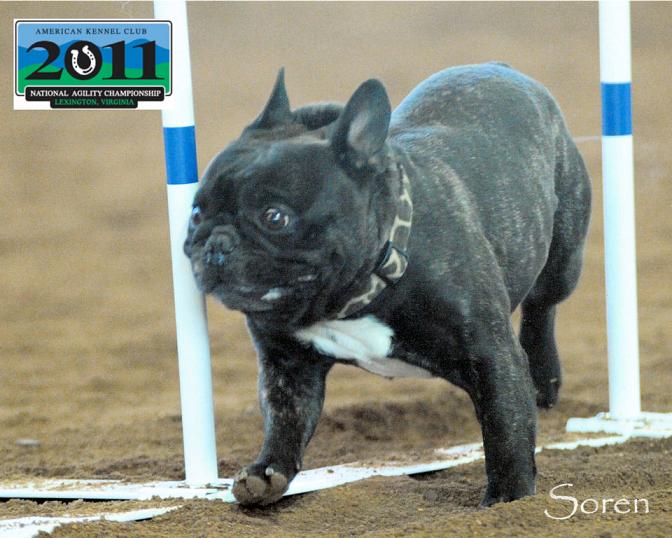 Sunday, we finished the weekend on maybe my favorite course of all time, designed by Janet Budzinski. Lots of serpentines!! Unfortunately a momentary confusion toward the end cost us a refusal, but it was a fun run.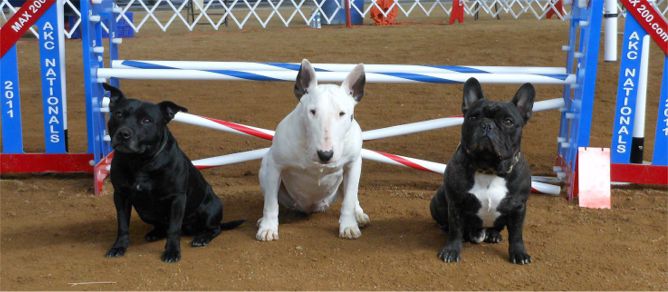 And of course, one of the best parts was having so many of our trialing buddies there with us. Above, the bullies (Left to Right: Staffie Bull rescue Pearlie, Bull Terrier Page, and Soren) posed for a photo op. Page and her wonderful handler and good friend, Mary Remer, made it to the Preferred Finals and finished 5th. First time a Bull Terrier competed at Nationals, and they had 3 clear rounds, and placed in the finals. A huge accomplishment for a great team, and I was so excited to be there to see it. YAY Mary and Page!!! We're so proud of you.
There were so many great teams from this area that made it to Challenger Round and to Finals, and we were very proud of all of them, and thrilled to cheer for them. Our roomies Andrea Samuels and Papillon Sparkle won the 8" division with an amazing run. And Andrea and her other Papillon Chase came in 5th.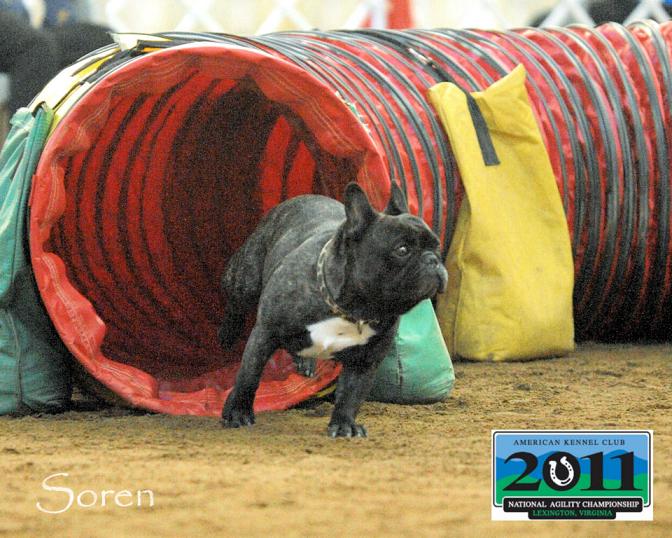 Through the years, Soren and I have shared so many amazing adventures and realized many "firsts" together. In my wildest dreams, I never imagined that someday we'd run at the National Agility Championships. I have a mental treasure chest full of incredible memories, and in it I will tuck away that unbelievable moment when we stepped to the start line, and for the first time ever, a French Bulldog ran at the National Agility Championships. You are amazing Soren!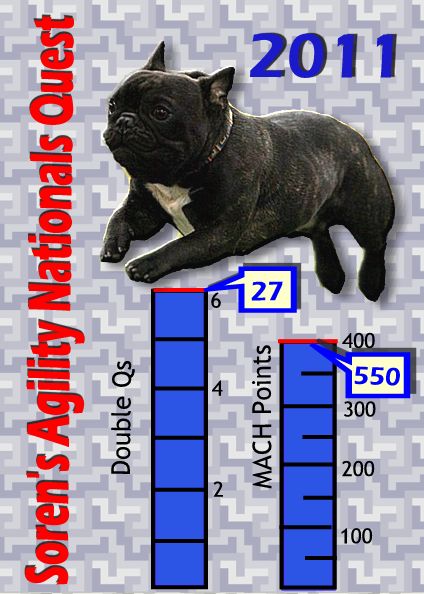 Home | Soren's Story | Soren's Accomplishments
PACH2 Quest
2011: The Year of the PACH
Soren's MACH3 Quest
Soren's Nationals Quest
2010: Soren's MACH2
2009: The Year of the MACH
Soren's Incredible 2008
Soren's Amazing 2007