Home | Soren's Story | Soren's Accomplishments
2011: The Year of the PACH
Soren's MACH3 Quest
Soren's Nationals Quest
2010: Soren's MACH2
2009: The Year of the MACH
Soren's Incredible 2008
Soren's Amazing 2007
2011: The Year of the PACH
Soren has been tearing up the courses in Preferred class and loving the 8" jumps and lower A Frame. Clearly the lower jumps have made it easier on him, and it is wonderful to see him having so much fun. In just 3 months, he earned 20 double Qs to finish his PAX and become the first French Bulldog to earn a PAX title.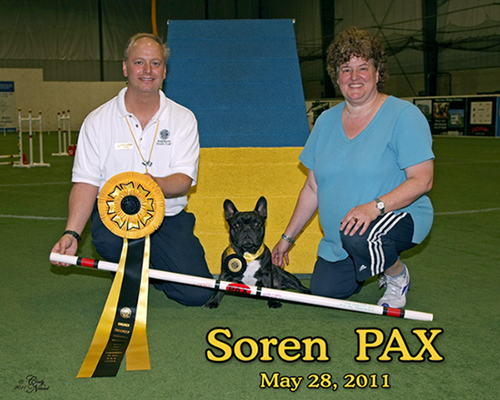 Photo by Cindy Noland ©
And just 3 months later, he became the first French Bulldog ever to earn a PACH (Preferred Agility Championship), under judge Jack Cadalso at Monticello KC on August 21, 2011.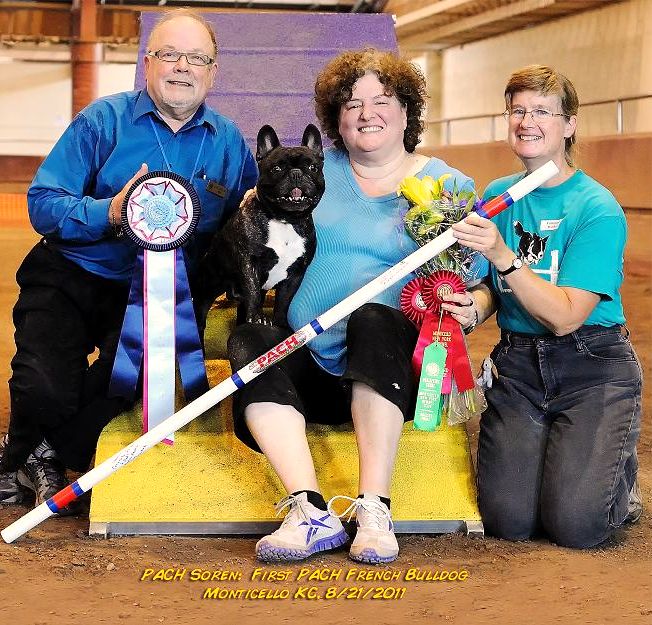 Photo by Rich Knecht ©
Having our instructor/coach/guru/friend Barb Miller there with us made it extra special. Of course, she is as much a part of our team as Soren and me, and she is with us in spirit on each run (and every walk thru). But having her there in person vs. just in my head was truly a treat. Can't thank you enough Barb, for the guidance, the support, the insights, the MANY and much treasured memories, and the laughs ... especially the laughs :o) There would be no MACHs or PACHs (and definitely no FAST titles ;o) without you, and this adventure certainly wouldn't have been nearly as much fun had we not shared it with you. Though clearly we do need to get you a Frenchie agility T-shirt for future photos ;o)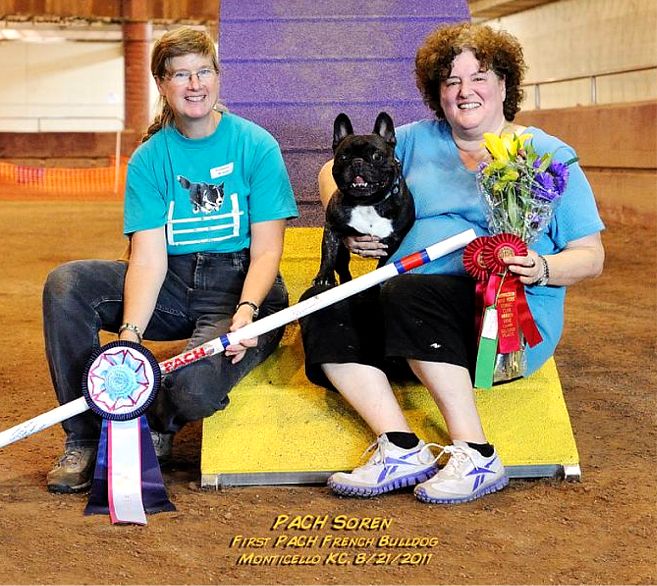 Photo by Rich Knecht ©
Here is the course map for our PACH run on 8/21/2011, under judge Jack Cadalso ...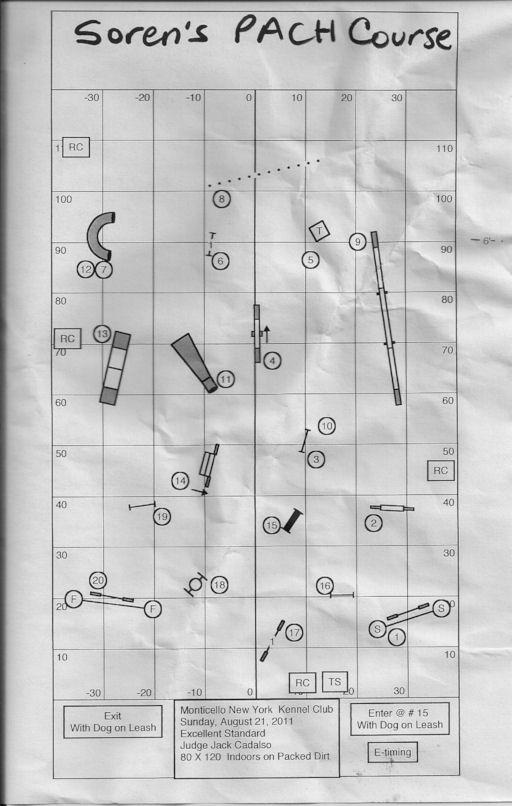 And this is the video of us running the course ... many thanks and hugs to our friend Ann Schwink for videotaping, holding Soren, AND cheering really loud!!
Another chart filled up :o)
Home | Soren's Story | Soren's Accomplishments
2011: The Year of the PACH
Soren's MACH3 Quest
Soren's Nationals Quest
2010: Soren's MACH2
2009: The Year of the MACH
Soren's Incredible 2008
Soren's Amazing 2007