Home | Soren's Story | Soren's Accomplishments
PACH2 Quest
2011: The Year of the PACH
Soren's MACH3 Quest
Soren's Nationals Quest
2010: Soren's MACH2
2009: The Year of the MACH
Soren's Incredible 2008
Soren's Amazing 2007
Soren's Incredible 2008
Click here to see a PDF slideshow of Soren's trip to the AKC Agility Invitational in Long Beach CA
(Click to scroll through the slides, and use your back button to return to this page when done viewing)
11 Titles in Rally and Agility
42 Placements, 19 First Places, 90 perfect Scores
20 MACH Double Qs and 367 MACH Points to become the top ranked French Bulldog of all time in AKC agility!!

Photo by Steve Surfman Photography ©
After the amazing year we had in 2007, it was hard to imagine things could get any better, but 2008 would not be outdone. We started the year half way to our Masters title in Jumpers and one leg shy of our Excellent Standard title. I set what I thought was an ambitious goal for 2008: I wanted to finish our AX, and earn 4 MACH double Qs and 110 MACH points by year end. Odd number choices you say, and that is true, but there was a reason I chose them. The most double Qs a Frenchie had ever earned was 3, and the most points was 107, and I hoped we could go beyond those records.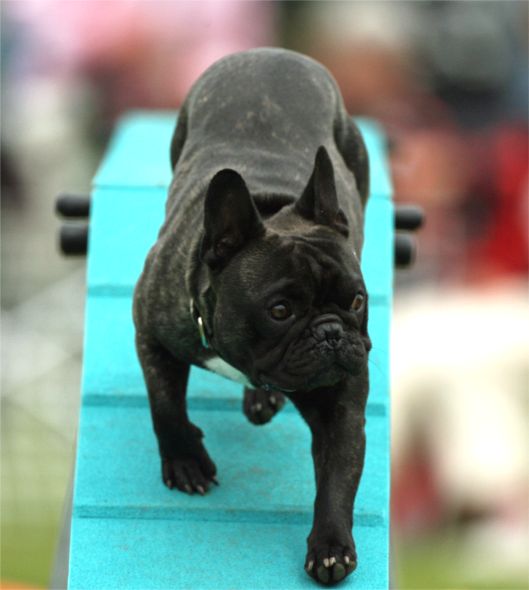 Photo by Steve Surfman Photography ©
We got the ball rolling on the 2008 agility season in a big way. At a 3 day trial the first weekend in March, Soren finished his AX title the first day, and Q'd in Jumpers besides. Then he wrapped up this amazing weekend by finishing his MXJ title, making him only the 6th Frenchie in history to earn an MXJ. Plus he earned 2 MX legs, TWO MACH double Qs and 6 more MACH points. 6 runs, 6 Qs. Incredible for a green dog of any breed, and made more special because our friend (and President of Soren's Fan Club) Peg Forte was there to share it with us. She proudly told anyone that would listen about Soren's awesome weekend :O)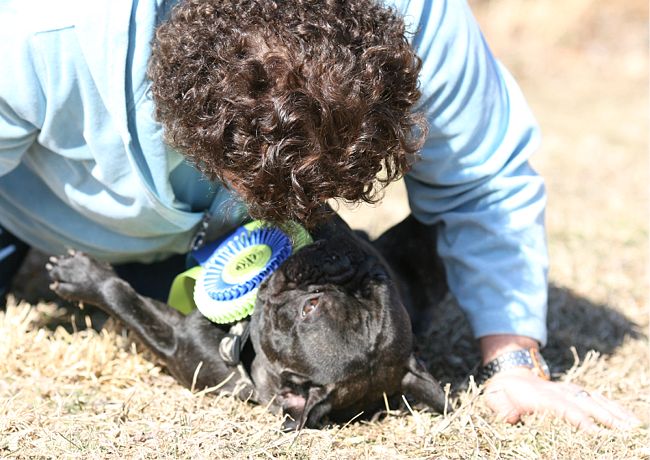 The Team Soren MXJ celebratory smooch -- Photo by Steve Surfman Photography ©
What I never imagined when I pondered our goals for 2008, was that in November, on a fast and wild run where Soren saved the day by managing an amazing turn into the chute for the last sequence on the course, we would earn our TWENTIETH MACH double Q. Even more amazing was finishing the year with 367 MACH points, incredibly, not that shy of qualifying for the AKC Nationals, and making Soren the top ranked AKC agility French Bulldog of all time.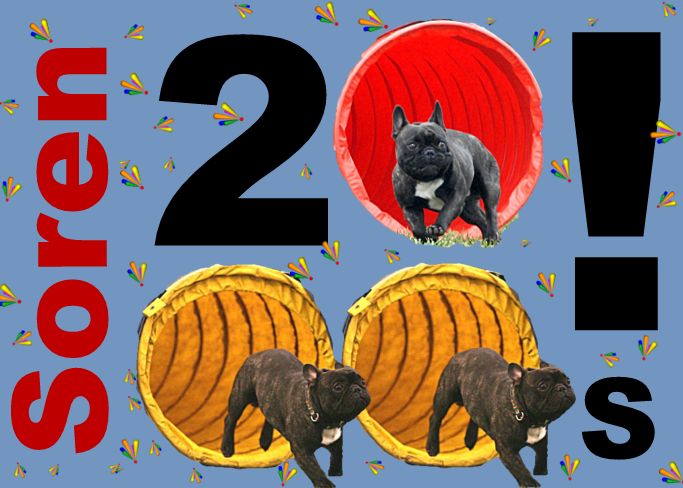 On November 16, 2008 at the JAG trial in Swedesboro, NJ, Soren earns his 2oth double Q toward his MACH!!! Only points to go now :o) He finishes the year with 367 points!
Along the way, we had some achievements that were really a thrill. Two of those were earning the Front and Finish Award of Excellence (FFX) Gold and Platinum awards: Gold for completing all 6 AKC agility titles in under a year, and Platinum for completing all 8 titles (through Masters) in under 24 months. Soren accomplished this in just 14 months, and became the first Frenchie to ever earn an FFX award in any venue.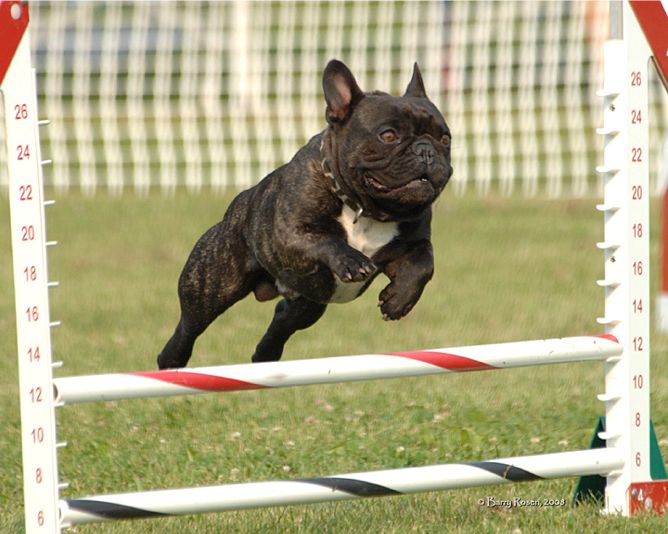 Photo by Barry Rosen Photography ©
Another very special honor came at the French Bulldog Club of America (FBDCA) Nationals in Kansas, where Soren was awarded the Babar Award, named after another very special brindle Frenchie boy, Babar, who forged the path in agility for the breed.

The award is given occasionally, in Babar's memory, to a French Bulldog that excels in agility. It was truly a thrill to receive this award, and we especially thank Jackie Drucker, Babar's agility partner, for her generous and kind recognition.


In addition to the Babar Award, Soren also earned FBDCA High Scoring French Bulldog awards in five categories:

Open Standard Agility

Excellent A Standard Agility

Excellent B Standard Agility

Excellent B Jumpers Agility and

Rally Excellent.


Soren's Invitation
The culmination of an incredible agility year, was Soren's invitation to the AKC Agility Invitational in Long Beach, CA. He was the #1 Ranked French Bulldog to qualify for the 2008 AKC Agility Invitational.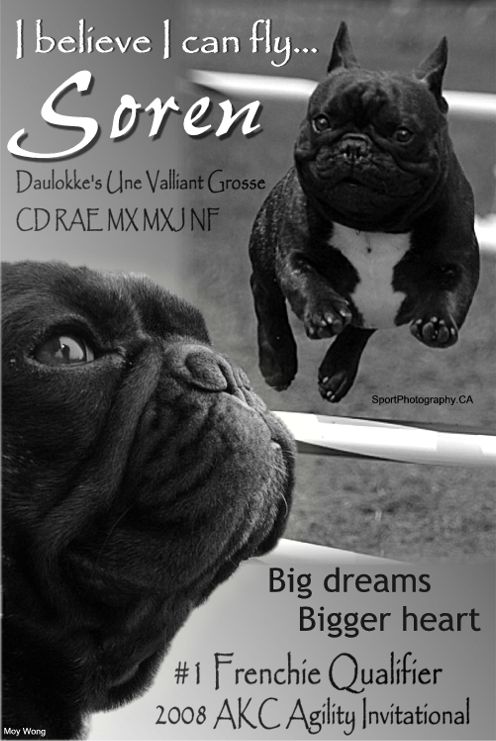 Soren's Ad in the 2008 AKC Agiliity Invitational Catalog
Problem was we weren't sure how we were going to stow a "substantial" Frenchie boy under an airplane seat to get there. But with a little help from our friends Ron, Suzanne and David, and Midwest Airlines, Soren had his own window seat and flew in the cabin as a "celebrity dog."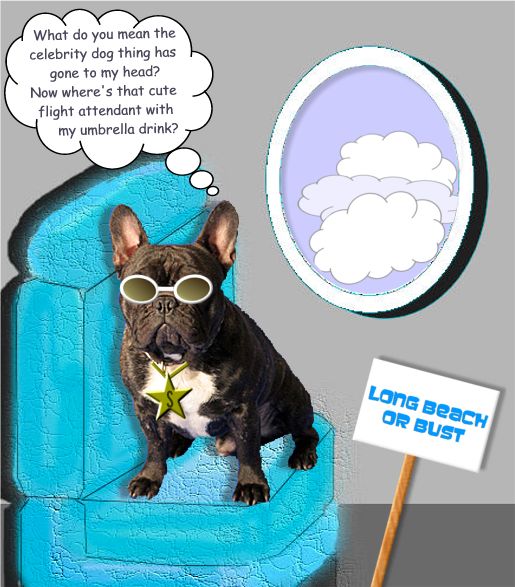 He was such a hit with the crew and other passengers, and I think the Midwest "baked in flight" cookies were the highlight of the trip for him. As always, he was so well behaved and took the whole experience in stride. He was even invited in to check out the cockpit...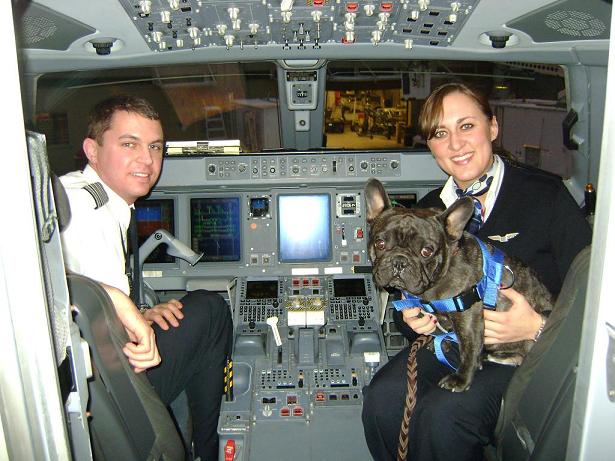 Soren and the Midwest crew in the cockpit during a stop in Kansas City, MO
It was such an honor to be invited to the Invitational Tournament to represent the breed, a thrill to attend and a special treat to receive the Parent Club Medallion for Top French Bulldog in the tournament. We had an absolutely fantastic time. To see a fun photo slideshow in pdf format of our trip, click here. Click to scroll through the slides and then use your <BACK> button at the end to return to this page.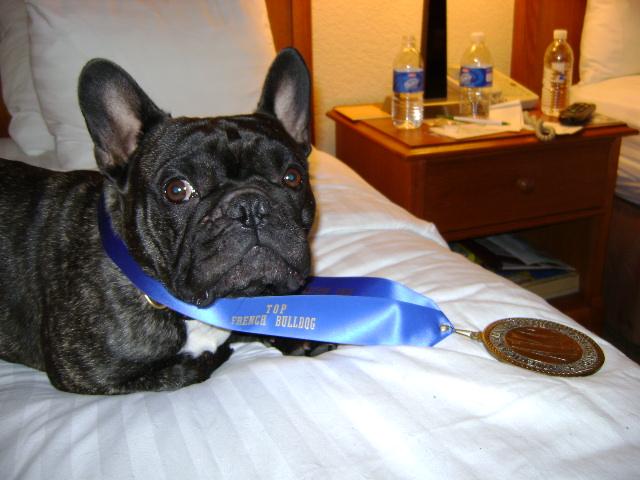 Soren with his Top French Bulldog medallion at the AKC Agility Invitational

Suzanne and Ron -- It's difficult to find words to thank you enough for this incredible experience, except to say you made a dream come true. That weekend will be stored in my "internal scrapbook" where I keep my most precious memories. THANK YOU!!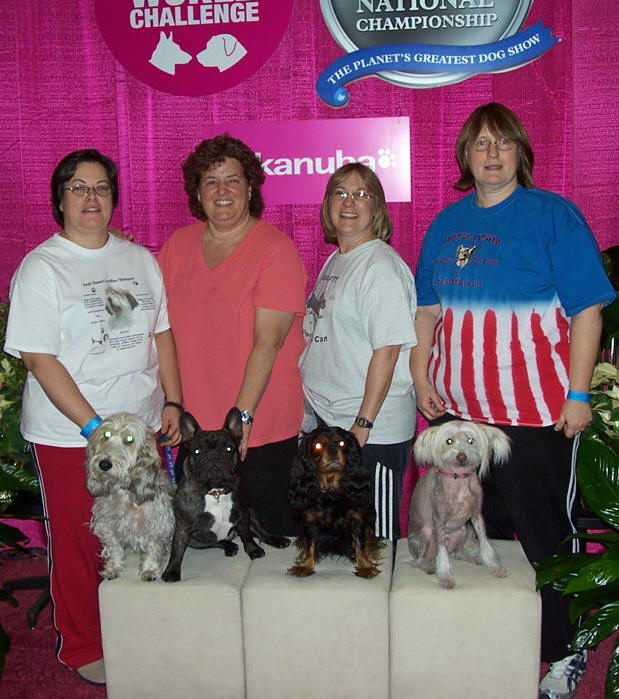 Some of the NJ/PA/NY 12" crew waiting to watch the finals -- From Left to Right: Jacqui O'Neill
and Gy, Deb Stevenson and Soren, Kris Kilfoil and Denzil, Carol Mount and Louie Louie
One of the high points of the Invitational was getting to meet another great Frenchie agility team: Andrea Morden-Moore and her boy Gunny. At age 11, Gunny can still tear up an agility course and have a great time while he's at it. It was inspiring to see him run. And he is total doll baby besides: full of kisses and not afraid to share them.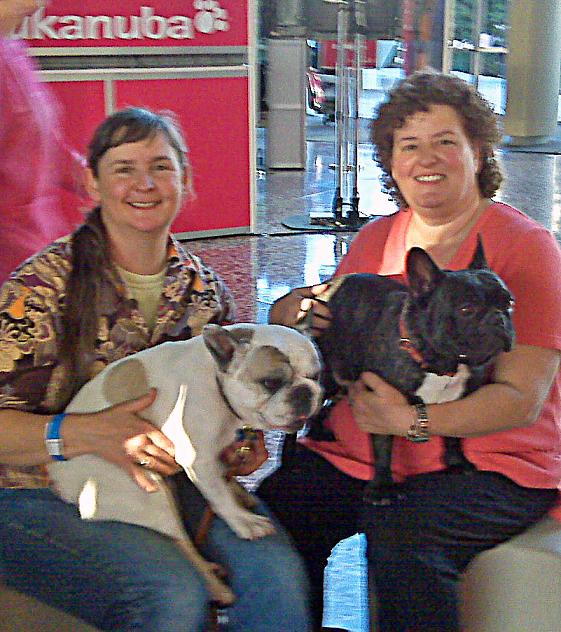 Gunny and Soren at the AKC Agility Invitational
While agility was definitely the highlight of our year, Soren showed his versatility by shining in rally as well, both AKC and APDT. On Labor Day weekend, Soren racked up some double Qs and really nice scores (including a few perfect 100s) to finish his AKC Rally Advanced Excellent title (RAE). And he was on a hot streak in APDT rally, where he finished his APDT Rally Champion Excellent title with a number of perfect 210 scores.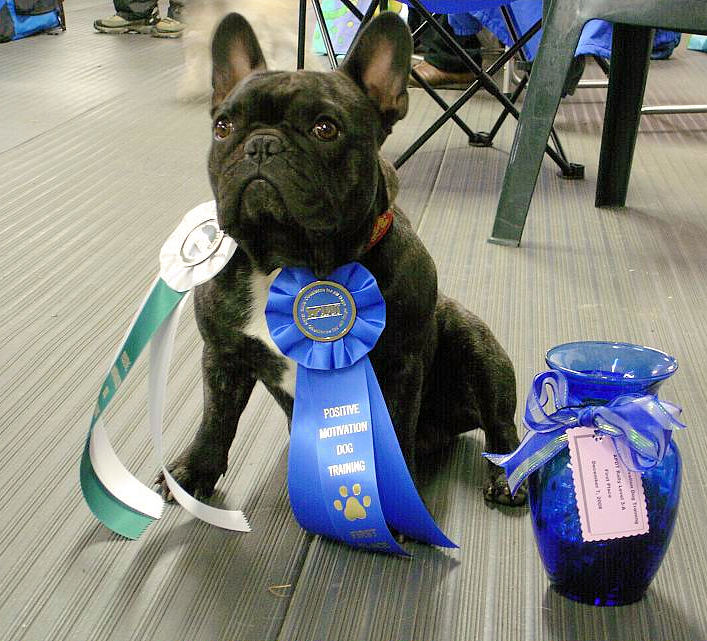 Soren RL3 -- Photo by Moy Wong ©
He also earned his APDT Level 3 title with 3 out of 3 first places and all scores of 200+ to earn an Award of Excellence for Level 3 (AOE-L3). He completed all 3 levels with an Award of Excellence, which is a great accomplishment.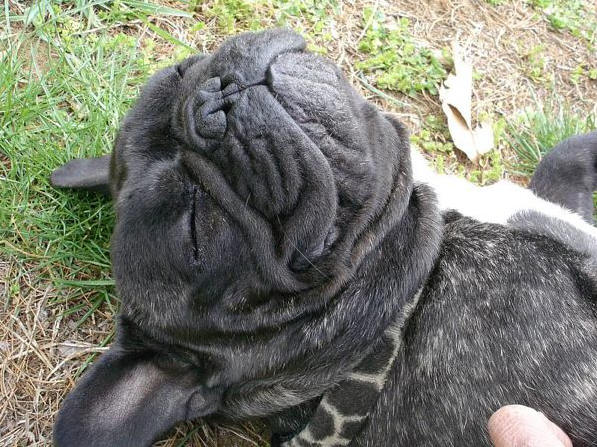 Soren at the APDT trial relaxing between perfect scores. Photo by Moy Wong ©
We also had a great time at the All Star Tournament in York PA the first weekend in August. In All Star Rally, Soren finished in the Top 10, placing 8th in Rally Excellent to become the first Frenchie to make All Star Top 10!!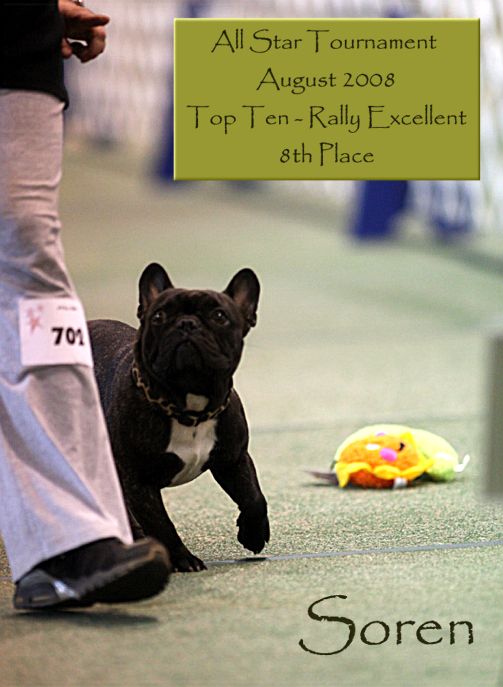 Photo by Steve Surfman Photography ©
Soren did an awesome job in All Star agility too and was in 4th place going into the final round. Unfortunately a bobble at the weaves in the last round knocked us out of the placements, but it was a wonderful ride.
It really is difficult for me to put into words what I feel about this little frog boy. I often jokingly tell him that he is magical, and if there's such a thing, I suspect he truly might be. Time and time again he rises to every occasion to do whatever I ask of him, and with such style, charisma and heart. And wherever he goes, his list of friends just grows and grows. He is one of a kind and once in a lifetime.
Before I get to the details of this incredible year, I would just like to thank a few more people...
Barb Miller, who has been such a supportive and creative teacher, and gotten this unlikely team so much farther than I ever imagined.

Sherrie Wilkes, who has also taught us so much and gives the best gooses, sometimes causing little frenchie boys to soar over 24" jumps (yikes) and exceed 4 YPS on a jumpers course.

Sara Jacobs, who has helped us so much with agility, rally and even some Open obedience this year.

As well as my family, friends, training, trialing and breed buddies near and far, whose camaraderie makes the journey memorable and so much more fun.
Last, but definitely not least, my most important thanks goes to you Soren, just for being the incredible dog you are, and for your devotion to me that touches me every day we're together. May we share many more adventures side by side.
And now, some photos and a chronological recap of this year...
January 26-27, 2008: Soren starts the year off by earning MXJ legs number 6 and 7 at the Williamsport DTC Agility Trial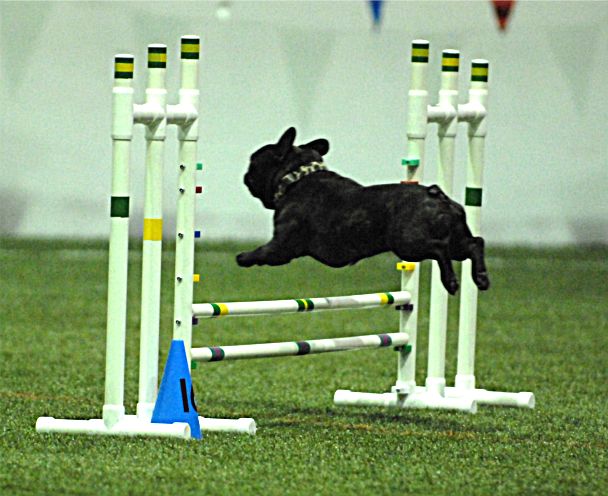 Soooooreeeeeen..... come baaaack!! The view from behind :o)
Photo by Landmarc Photography ©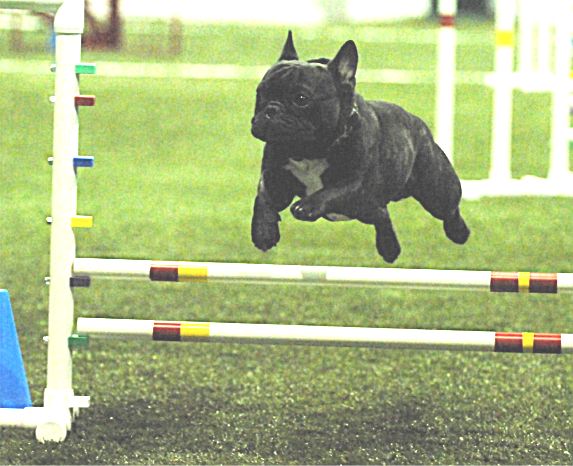 And coming atcha. Photo by LandMarc Photography ©
February 29, 2008: Soren finishes his Excellent Standard (AKC AX) title with a 2nd Place. For good measure, he also picked up his 8th MXJ leg!!
A Frenchie Breed First!!! -- Soren's AX title also earns him a Front and Finish Excellence Agility Gold Combined award (FFX-AG) for completing ALL SIX AKC agility titles in under a year!! What an amazing boy he is.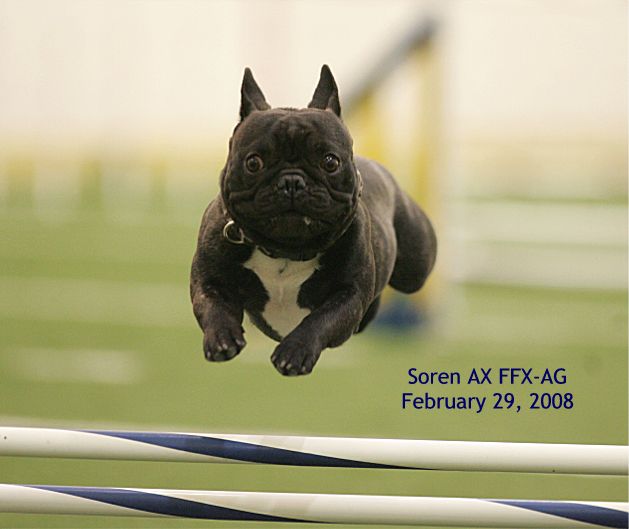 Photo by Steve Surfman Photography ©
In April, we had a perfect day at the APDT Rally trial. FOUR PERFECT 210 SCORES!!! And a 1st, 3rd, 4th and 4th Place. Plus Soren completed both his Level 1 and Level 2 championships.
APDT Level 1 Championship (RL1X) – April 27, 2008
APDT Level 2 Championship (RL2X) – April 27, 2008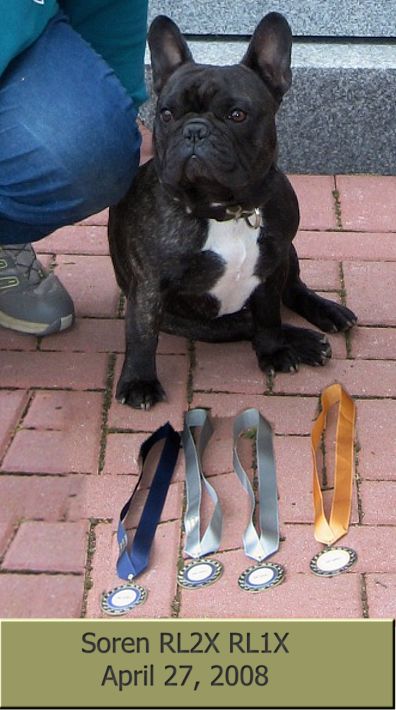 Soren finishing his Level 1 and Level 2 Championships in APDT Rally
with four perfect 210 scores © Photo by Pat Galante
Master Agility (MX) – May 24, 2008.
This also qualifies Soren for the Front and Finish FFX Agility Platinum award for completing all 8 AKC agility titles in under 24 months. Soren did it in just 14 months! Another breed first!!
Soren also had some fun and success in DOCNA agility, picking up a few new titles and qualifying on his first attempt for the DOCNA Nationals.
DOCNA Competition Beginner Gamblers (C-BGA) – July 12, 2008, with a 2nd Place
DOCNA Competition Beginner Trigility (C-BTA) – July 12, 2008, with a 1st Place and clean run for the team
DOCNA Competition Beginner Agility Award (C-BAA) – July 12, 2008, for completing all five beginner level titles in the Competition Division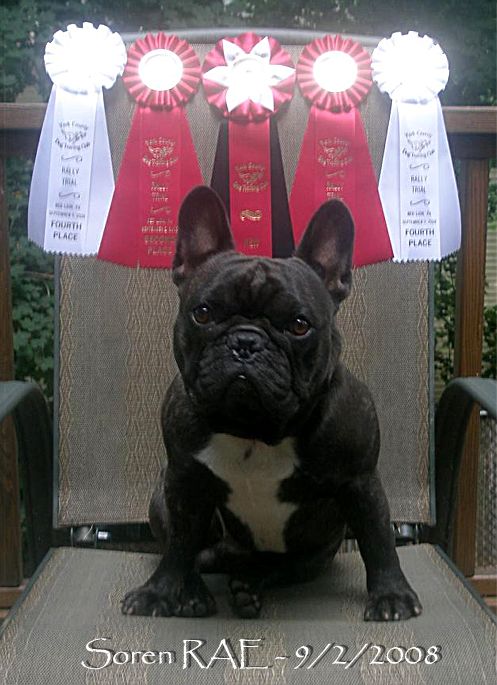 On Sept 2, 2008, with scores of a perfect 100 and a 99, and 2nd and 4th Place, Soren became the 4th Frenchie to finish an AKC Rally Advanced Excellent (RAE) title. He also earned his first RAE2 double Q with a 100 and 99 and 2nd and 4th place.
On November 16, Soren aced a tough Standard course to earn his 20th MACH double Q. What an incredible rush. Only 2 years from when he first laid eyes on agility equipment, Soren became the first French Bulldog to earn all 20 double Qs required for a MACH.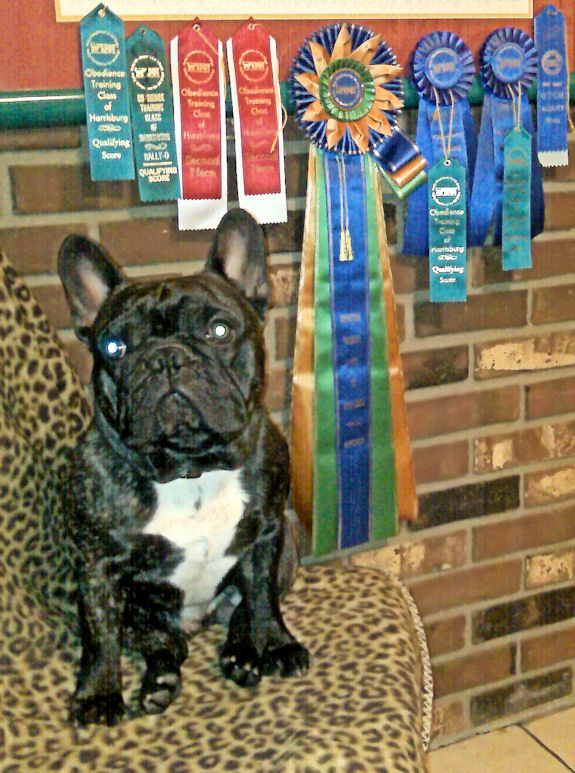 On November 30, 2008, Soren finished his APDT Rally Champion Excellent (ARCHX) title with a 207 and a perfect 210 score, and two 2nd Places. He also earned his first 2 legs in Level 3 with two 1st places and scores of 201 and 206. And on December 7, he completed his Level 3 title with another 206 score for a Level 3 Award of Excellence.
On December 10, we headed to sunny Long Beach California for the AKC Agility Invitational. It was the time of a lifetime, and a perfect way to end an incredible 2008.
What does a special Frenchie boy who has everything get for being the top French Bulldog of the year? Why lobster of course!! Click here to see more pix of Soren's first crustacean encounter :O)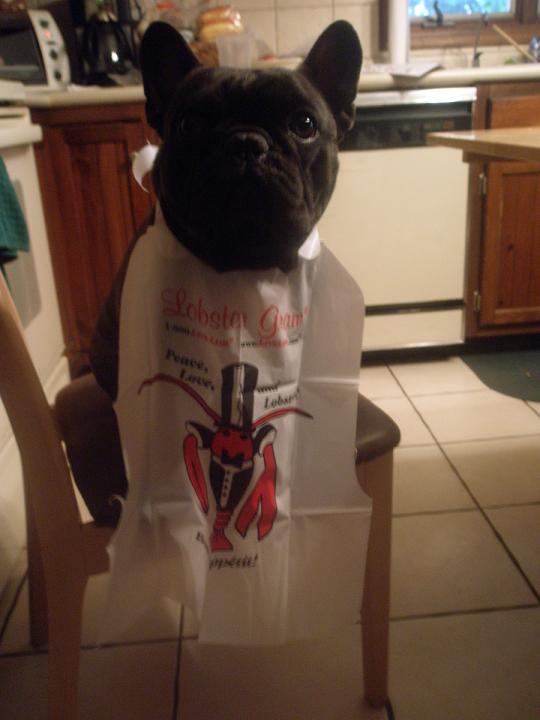 And with that, we bid a very fond farewell to 2008, and look forward anxiously to what 2009 will bring.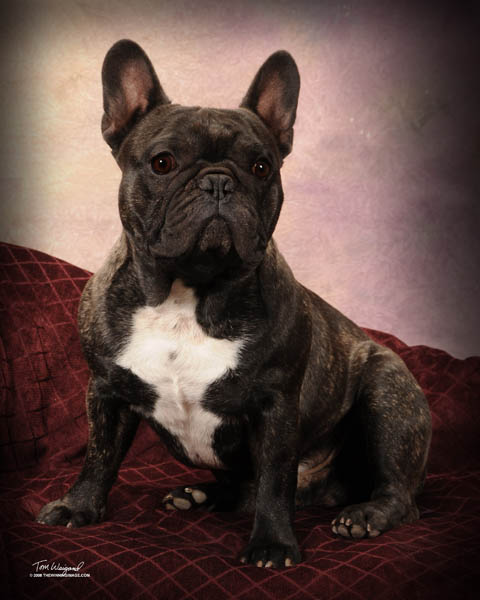 Home | Soren's Story | Soren's Accomplishments
PACH2 Quest
2011: The Year of the PACH
Soren's MACH3 Quest
Soren's Nationals Quest
2010: Soren's MACH2
2009: The Year of the MACH
Soren's Incredible 2008
Soren's Amazing 2007