Home | Muzzy | Lulu | Soren | Audra | Photo Albums | In Memory | Favorite Links
Lulu's Story | Lulu's Accomplishments
Lulu's Story

Hi! It's me, Lulu… formally known as ARCHEX UCD Agathe Von Den Loewen CD RAE NJP CD-H RL3X RL2X2 RL1X CGC TDI. But I pretty much answer to anything. Those letters before and after my name are titles, and the more I earn, the longer my name gets.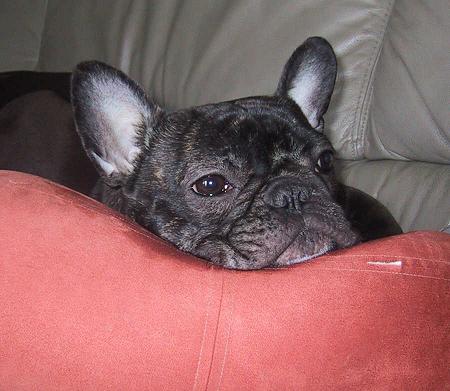 You may think I look like a couch potato (or maybe just a potato), and sometimes I am. But I actually have a pretty busy schedule.
Some people think that French Bulldogs can't do obedience, but that's not true. We can, if we want to. I started going to school when I was only 5 months old! I am the class clown and everyone makes a fuss over me. On my 6 month birthday, I took a test to show I was a Canine Good Citizen, and I passed of course. I especially liked the part about "greeting a friendly stranger." I love all strangers, especially the friendly ones.
Then when I got a little older and polished my skills, I started doing a dog sport called "Rally." I follow mom around a course with signs. Each sign has a different obedience exercise, mom reads the sign to me, and I do whatever she says. And we get timed… I am faster than my sister Muzzy, and she is a Doberman… not bad huh? I have earned 4 Rally titles in AKC: Rally Novice, Rally Advanced (I finished this one in three straight trials with three first places!!), and Rally Excellent.
Here I am after earning my Rally Novice (RN) title…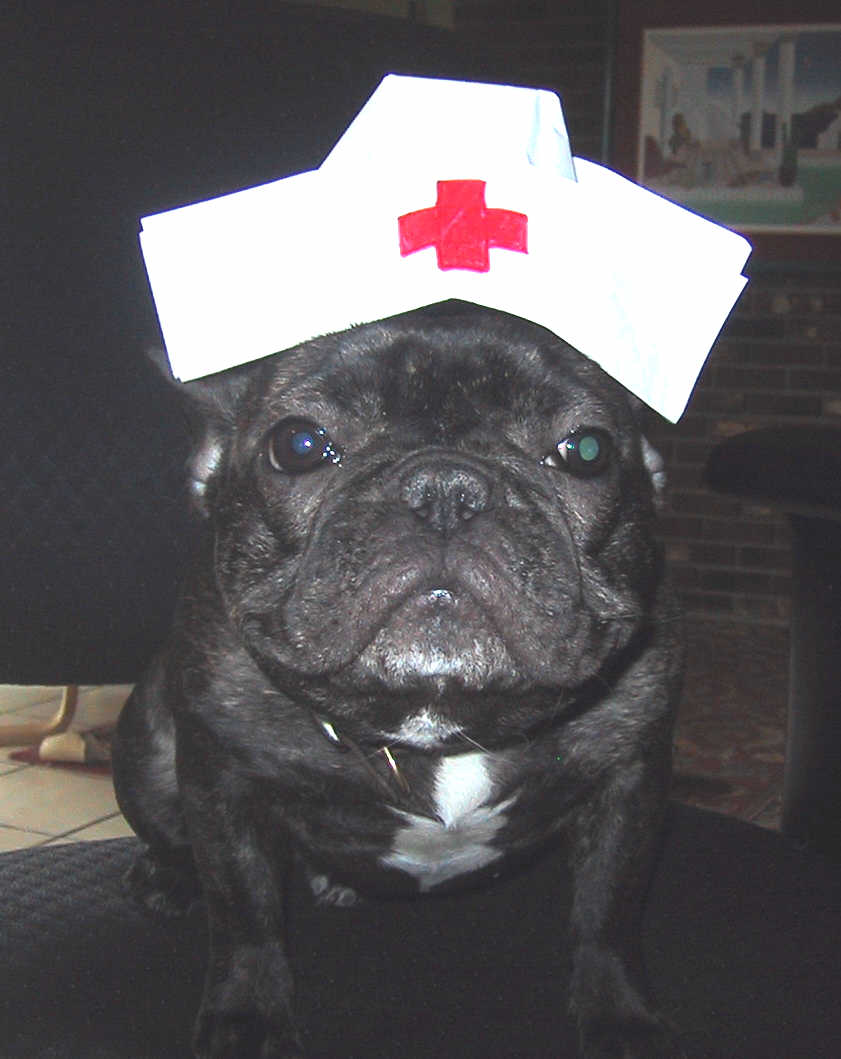 And here I am winning first place in Rally Advanced…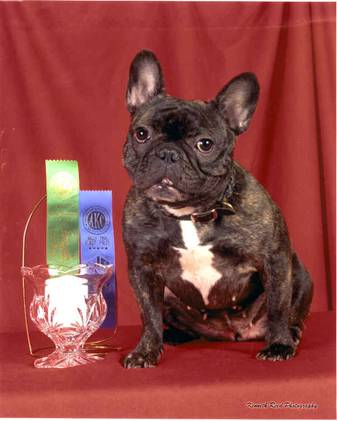 Photo by Kenneth Reed Photography
I even earned my RAE (Rally Advanced Excellent) title. That's the highest AKC rally title a dog can earn and I am the very first French Bulldog ever to earn it!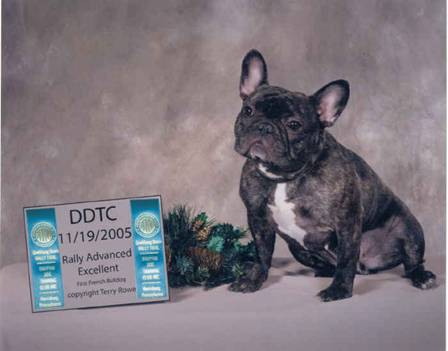 Photo © Terry Rowe
In APDT (Association of Pet Dog Trainers) Rally I have finished my Level 1, Level 2 and Level 3 titles, my Level 1, 2 and 3 Championships. (Notice in the picture below I did better than Soren!!)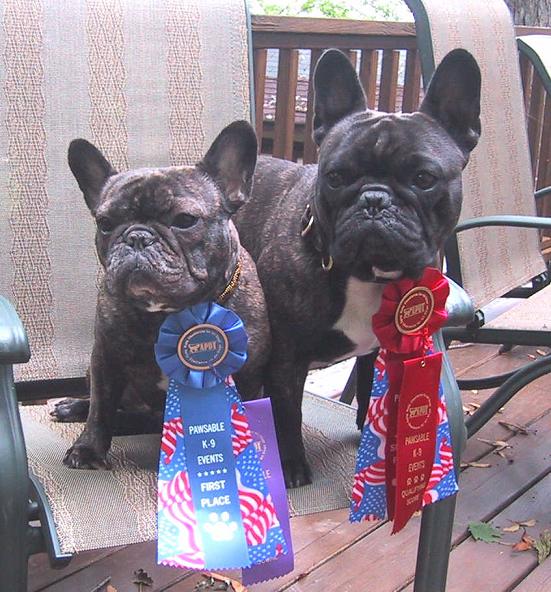 I also have my APDT Rally Championship (ARCH) (in five straight trials and with 10 out of 10 perfect scores) and APDT Rally Champion Excellent (ARCHX). I even earned my ARCHEX, which is the highest championship you can get, and I was the first Frenchie ever to do it!! And the best part is sometimes when you win, they give you toys! Stuffies are my favorite.
This is me and some of my Dobe buddies finishing our Rally titles. I am the cute, short one in the middle…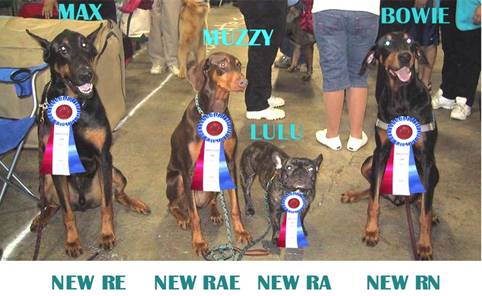 I also do regular obedience. I earned my UKC Companion Dog title (UCD) in three straight trials. Mom was surprised, but I knew I could do it. I finished my St. Hubert's CDSP CD-H title in one weekend, and even scored a 197 out of 200! And then I finished my AKC CD… I qualified in three straight trials again. I am also starting to train for Open Obedience, where I get to play with this very neat toy called a dumbbell. I am very good at taking it, but not always so good at giving it back. Here I am with my sister Muzzy winning our UKC CD titles. We finished together, which made it extra special…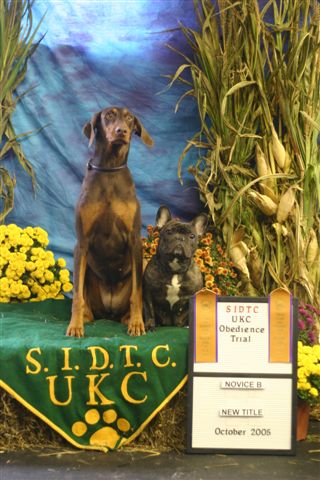 I've also done a little of something called agility. I went to class with Muzzy and got to play on the agility course with her. We jumped over things and ran through tunnels together and it was F-U-N! So mom said I could do it too. I earned 3 legs in a row in Novice Jumpers Preferred for my NJP title with a 3rd place and two 2nd places. I already have 4 legs, so not sure why I needed more, but mom was proud of me … I ran REALLY fast and jumped over everything she told me to jump.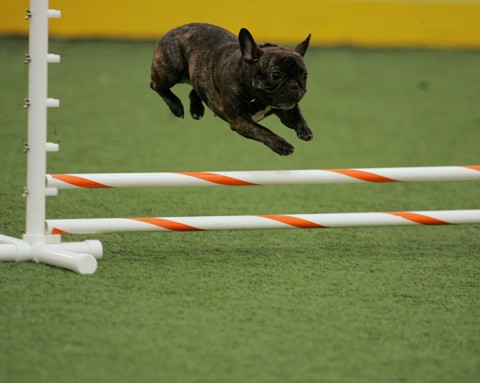 Photo by Steve Surfman ©
Oh… and in my spare time, I am a therapy dog. I get to go visit seniors in an adult day care center and at an assisted living facility. Not to brag, but I am a natural for this job. Sitting on laps, getting hugs, giving kisses, being charming and amusing, making people smile… it's not even like work.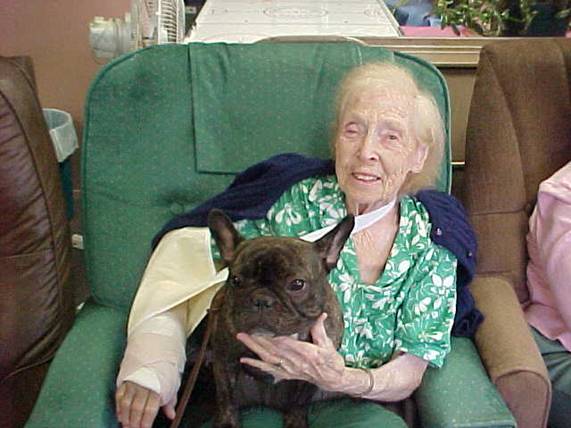 So you see… looks can be deceiving. Don't get me wrong… I like the couch as much as the next Frenchie. But being well rounded (literally and figuratively), I like having my career too. When the car keys come out, I'm first off the couch, and when mom says jump, I just ask "How high?"
Love and Frenchie Kisses,
Lulu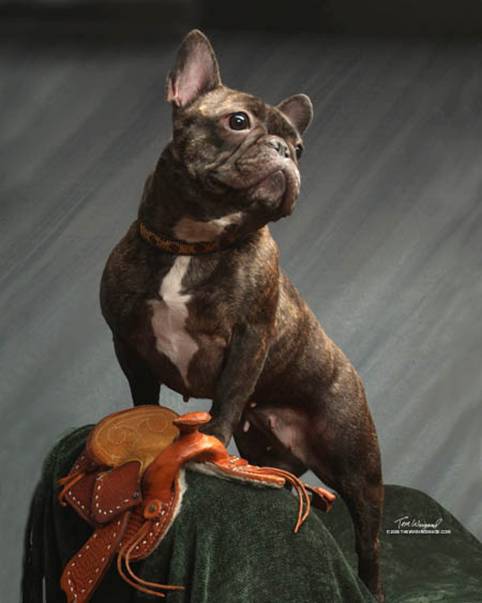 Photo by The Winning Image ©
Home | Muzzy | Lulu | Soren | Audra | Photo Albums | In Memory | Favorite Links
Lulu's Story | Lulu's Accomplishments