Home | Muzzy | Lulu | Soren | Audra | Photo Albums | In Memory | Favorite Links
Muzzy's Story | Muzzy's Accomplishments
Muzzy's Accomplishments
ARCHEX UCD Redlion Fu Z Mu Z Wuza Bear VC CD CD-H ASCA-CD RAE3 OJP V-BJA V-BTA RL3X RL2X3-AOE RL1X2-AOE RLV-AOE CGC TDI
28 Titles!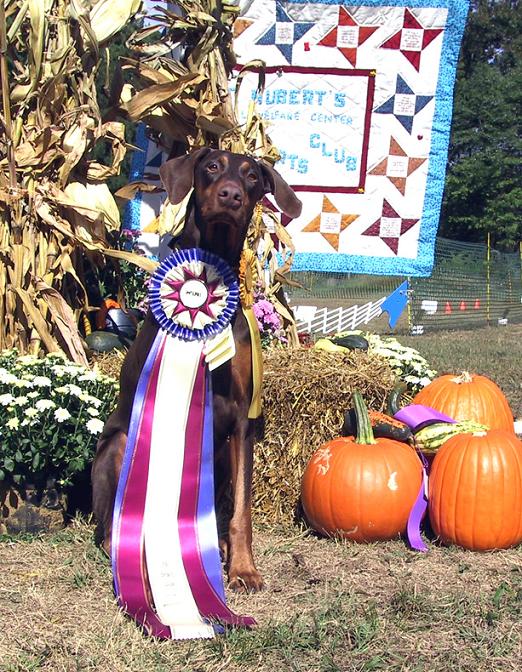 Muzzy's ARCH -- Photo by Zeke ©

Muzzy's Accomplishments in 2009:
APDT Rally Veterans - Award of Excellence (RLV-AOE) – December 6, 2008, Muzzy finished her Veteran's title with a great score of 207 and a 2nd Place. She also gets her Award of Excellence for having all her scores toward her title above 190. After all these years, she is still an awesome rally partner :o)
Muzzy's Accomplishments in 2008:
DOCNA Veteran's Beginner Trigility (V-BTA) – July 12, 2008, with a First Place
APDT Rally Champion Extraordinaire (ARCHEX) – April 27, 2008 I am so proud of Muzzy. Years ago she started out in APDT Rally a scared, timid rescue girl, and today she earned the highest honor APDT offers. She even finished with a 209 and a perfect 210 and 2nd Place in Level 3. What an amazing girl she is and what a special treat to be her partner.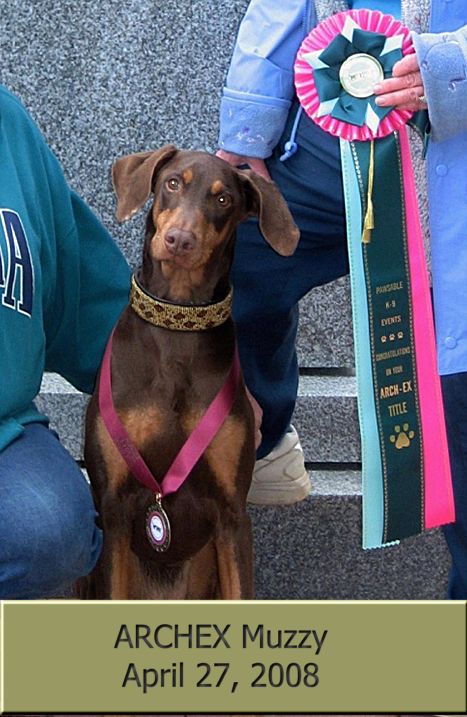 Muzzy's ARCHEX -- Photo by Pat Galante ©
At the Golden Rule APDT Rally trial on April 19, Muzzy showed she still has what it takes, earning her 8th and 9th double Qs toward her ARCHEX. She placed in 3 out of 4 classes (Probably 4 for 4 if her handler read the signs right ;o) with scores of 208, 4th Place, 195 , 208, 3rd Place, and 206, 4th Place. She was a very happy girl and it was a pleasure to be out there with her on the course.
Muzzy's Accomplishments in 2007:
Nationally Ranked in APDT Rally: Ranked #5 in the RL3X Division, and #147 overall (all breed out of almost 1,200 dogs ranked in US and Canada), and #3 Ranked Doberman
On Dec 31, 2007, Muzzy earned her first DOCNA Veteran's Intern Jumpers Agility (V-IJA) leg with a clean run and a FIRST PLACE!!
DOCNA Veteran's Beginner Jumpers Agility (V-BJA) – Dec 8, 2007, Muzzy finished her title with 2 clean runs for two FIRST PLACES!!
APDT Rally Level 3 Championship (RL3X) – Sept 22, 2007, with a score of 204, a 5th Place, and a High Scoring Rescue Dog award!! She also earned her 5th ARCHEX double Q with a 209 in level 2!
3rd APDT Rally Level 2 Championship (RL2X3) – August 25, 2007
Jul 1, 2007 Muzzy earned her 2nd APDT Rally ARCHEX double Q!!
On Aug 25 and 26, Muzzy earned her 3rd and 4th ARCHEX double Qs with scores of 201, 203, 206 and 206!!
Muzzy's Accomplishments in 2006:
Muzzy finished 2006 with 8 NEW TITLES and over 30 Placements!!
St. Hubert's CDSP CD (CD-H) – Jan 2, 2006, in three straight trials
United Doberman Club Versatility Companion Dog (VC) – March 23, 2006
APDT Rally Champion Excellent (ARCHX) – April 9, 2006 in five straight trials and with 10 out of 10 perfect scores
Second APDT Level 1 Championship (RL1X2) – April 9, 2006
Second APDT Level 2 Championship (RL2X2) – April 29, 2006
AKC Open Jumpers Preferred (OJP) – May 14, 2006
AKC Rally Advanced Excellent 3 (RAE3) – July 22, 2006
All Stars Super Rally Division Top Ten, 6th place – August 4, 2006 (and completed every station on the entire Ultimate Rally Challenge course with the lowest time)
ASCA Companion Dog (ASCA-CD) – Dec 9, 2006
APDT Rally National Rankings: Top Ranked Dobe, #47 All Breeds/Categories, #17 in ARCHX Category
On Dec 3, 2006, Muzzy also earned her first Excellent Jumpers A P leg!
Muzzy's Accomplishments in 2005:
UKC Companion Dog (UCD) – October 9, 2005
AKC Rally Novice (RN) – February 19. 2005
AKC Rally Advanced (RA) – April 23, 2005
AKC Rally Excellent (RE) – May 27, 2005
AKC Rally Advanced Excellent (RAE) – July 7, 2005
AKC Rally Advanced Excellent 2 (RAE2) – October 8, 2005
APDT Rally Level 2 (RL2) and APDT Level 2 Award of Excellence – April 9, 2005
APDT Rally Level 3 (RL3) – November 26, 2005
APDT Rally Championship (ARCH) – September 24, 2005
APDT Rally Level 1 Championship (RL1X) – August 6, 2005
APDT Rally Level 2 Championship (RL2X) – September 24, 2005
AKC Companion Dog (CD) – Jan 1, 2005
AKC Novice Jumpers Preferred (NJP) – November 20, 2005
All Stars Rally Advanced/Excellent Division Top Ten, 6th place – August 5, 2005
APDT Rally National Rankings: Top Ranked Dobe, #39 All Breeds/Categories, #15 in ARCH + Individual Championship Category
Muzzy's Accomplishments in 2004:
APDT Rally Level 1 Cum Laude (R1CL) – November 6, 2004, in three straight trials
Muzzy's Accomplishments in 2003:
Canine Good Citizen (CGC) – October 23, 2004
Certified Therapy Dog (TDI) – October 23, 2004
Breed Firsts:
Muzzy is the first Doberman Pinscher to earn an AKC Rally Advanced Excellent 3 Title
Muzzy is the first Doberman Pinscher to earn an AKC Rally Advanced Excellent 2 Title
Muzzy is the second Doberman to earn an AKC Rally Advanced Excellent title, and the first ILP Doberman to do so
Muzzy is the first Doberman to compete in All Star Rally and to make the All Star Top Ten in Rally (Advanced/Excellent and Super Rally Divisions)
Muzzy is the first Doberman to earn a St. Hubert's CDSP Obedience title (CD-H)
Home | Muzzy | Lulu | Soren | Audra | Photo Albums | In Memory | Favorite Links
Muzzy's Story | Muzzy's Accomplishments